Education
The Remote Sensing Centre takes part in following educacional programmes:
---

ERASMUS MUNDUS - Geo-information Science and Earth Observation for Environmental Modelling and Management" (GEM) EU Programme

In this course you will learn about environmental systems, their components and interactions with society, as well as become qualified in the rapidly expanding field of geo-information science. The alumni from GEM programme have all found relevant and exciting work opportunities in the application of spatial science and information within government, the private sector and NGOs. Our MSc course has been selected for a second 5 year cycle of European Union funding support, allowing us to continue to offer prestigious scholarships to outstanding candidates from the EU, as well as non-EU countries. In this programme take part universities in Iceland, Netherlands, Poland, Sweden and UK, as well as our partner university in Australia.
The partners of GEM program are University Twente Faculty ITC, University Lund ( GIS ), University of Island, University of Southampton-Geography, University of Warsaw ( Interfaculty Studies in Environmental Protection ).  

GEM Programme Coordinator : prof. Andrew Skidmore ( University Twente )
Polish National Coordinator : prof. Katarzyna Dabrowska - Zielinska
Warsaw University Coordinator : dr Malgorzata Roge - Wisniewska
Institute of Geodesy and Cartography Coordinator : prof. Katarzyna Dabrowska - Zielinska
More inforation: www. gem-msc.org and mail to gem-msc@itc.nl
---

Institute of Geodesy and Cartography, as a member of European Centre of Excellence for Earth Observation Research Training, welcomed two GIONET Early Stage Researchers (ESRs) for three years of individually supervised doctoral projects.

 

Programme coordniator: prof. Heiko Balzter (University of Leicester)
Coordinator in IGiK: prof. Katarzyna Dabrowska-Zielinska
Co-coordinator in IGiK: PhD. Eng. Agata Hoscilo
Mr. Matthew Ofwono from Uganda will work on the project "Satellite derived information for drought detection and estimation of the water balance" (supervisor: prof. Katarzyna Dabrowska-Zielinska). Mr. Shailesh Shrestha from Nepal will work on the project "Monitoring of land cover or land use changes using HR satellite images" (supervisor: dr Zbigniew Bochenek). Each researcher will undertake two secondments to industry and universities across Europe, as well as will receive technical and complementary skills, training and scientific education.
In October 2011, 14 GIONET ESRs participated in the 1st GIONET Summer School in Jena (Germany). The Summer School included a stepwise seminar on SAR remote sensing principles followed by lectures on interferometric and polarimetric processing and modelling (PolSARPro software and various in-house programs; and a two-day workshop module on Trimble's eCognition). A second part covered hyperspectral remote sensing and fieldwork, calibration and signal retrieval, radiative transfer, segmentation and advanced image processing techniques. The 2nd GIONET Summer School was organized by the University of Leicester (UK) in September 2012.
More information about project GIONET. Below you find GIONET Researchers Matthew Ofwono and Shailesh Shrestha profiles.

GIONET Postgraduate Researcher
Contact details:
Tel: +48 022 329-19-49
E-mail: matthew.ofwono@igik.edu.pl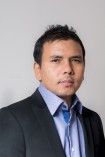 GIONET Postgraduate Researcher
Contact details:
Tel: +48 022 329-19-49
E-mail: shailesh.shrestha@igik.edu.pl