Floods

Full text about local flooding in Poland will be added soon...
Read more >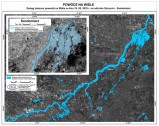 The objective of the
ESA
project was to assess the area flooded in
May
and
June 2010
in
Poland
. Data gathered by various satellites with radar sensor were used at the chosen test sites. These included microwave satellite images such as
ALOS.PALSAR
,
ENVISAT.ASAR
and
ERS-2.SAR
. Microwave satellite images were used for mapping the extent of flooding.
Read more >

Institute of Geodesy and Cartography once again in its history has used satellite remote sensing methods for mapping flood extent. The accompanying maps present the situation in the valley of the Vistula and San, on 6 June 2010 and in the valley of Odra on 9 June 2010. The flood wave range has been superimposed on a map showing land use in districts located along both sides of the rivers.
Read more >