JECAM Wielkopolska - study site for global agricultural monitoring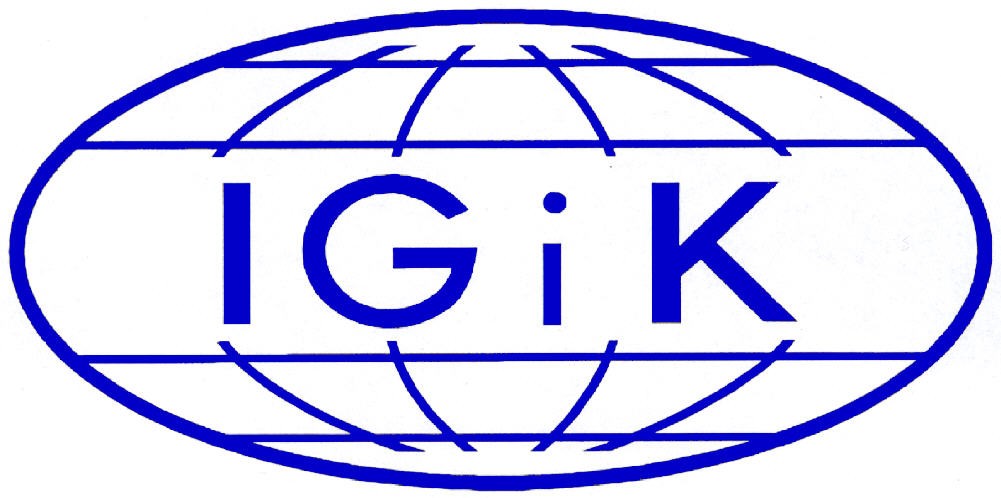 JECAM Joint Experiment of Crop Assessment and Monitoring
In 2017 Remote Sensing Centre joined the JECAM initiative - Joint Experiment of Crop Assessment and Monitoring. The overrarching goal of JECAM is to reach a convergence of approaches, develop monitoring and reporting protocols and best practices for a variety of global agricultural systems. JECAM will enable the global agricultural monitoring community to compare results based on disparate sources of data, using various methods, over a variety of global cropping systems. It is intended that the JECAM experiments will facilitate international standards for data products and reporting, eventually supporting the development of a global system of systems for agricultural crop assessment and monitoring Agriculture and Agri-Food Canada (AAFC) has taken on the secretariat role of the JECAM project on behalf the GEO Agricultural Monitoring Community of Practice. (Credits: www.jecam.org)
---
JECAM POLAND STUDY SITE
Team Leader: Prof. Katarzyna Dabrowska-Zielinska, Head of Remote Sensing Centre IGiK,
e-mail: katarzyna.dabrowska-zielinska@igik.edu.pl
Team Members: Dr. Maciej Bartold, MSc Radoslaw Gurdak, MSc Eng. Patryk Grzybowski
Project Overview:
Crop identification and acreage estimation:
Remote Sensing Centre at IGiK conducts researches aimed to develop remote sensing methods for annual land use and crop types mapping and yield assessment at the regional level.

Soil moisture: Information is required in near-real time (within hours) for watershed and field level estimates of absolute volumetric surface soil moisture and changes in soil moisture. Regional estimates are needed to define risk due to moisture anomalies. These regional estimates are to be provided on a twice/three times a month.
Crop biophysical variables (LAI): Information is needed frequently throughout the growing season (twice/three times a month). LAI estimates are to be assimilated into locally calibrated yield models, and to provide a more quantitative evaluation (relative to NDVI) of crop condition.
The mapping resolution is at 10 m from ESA satellites (Sentinel-1, Sentinel-2) and < 100 m from Canadian RADARSAT-2.
Study Site Description: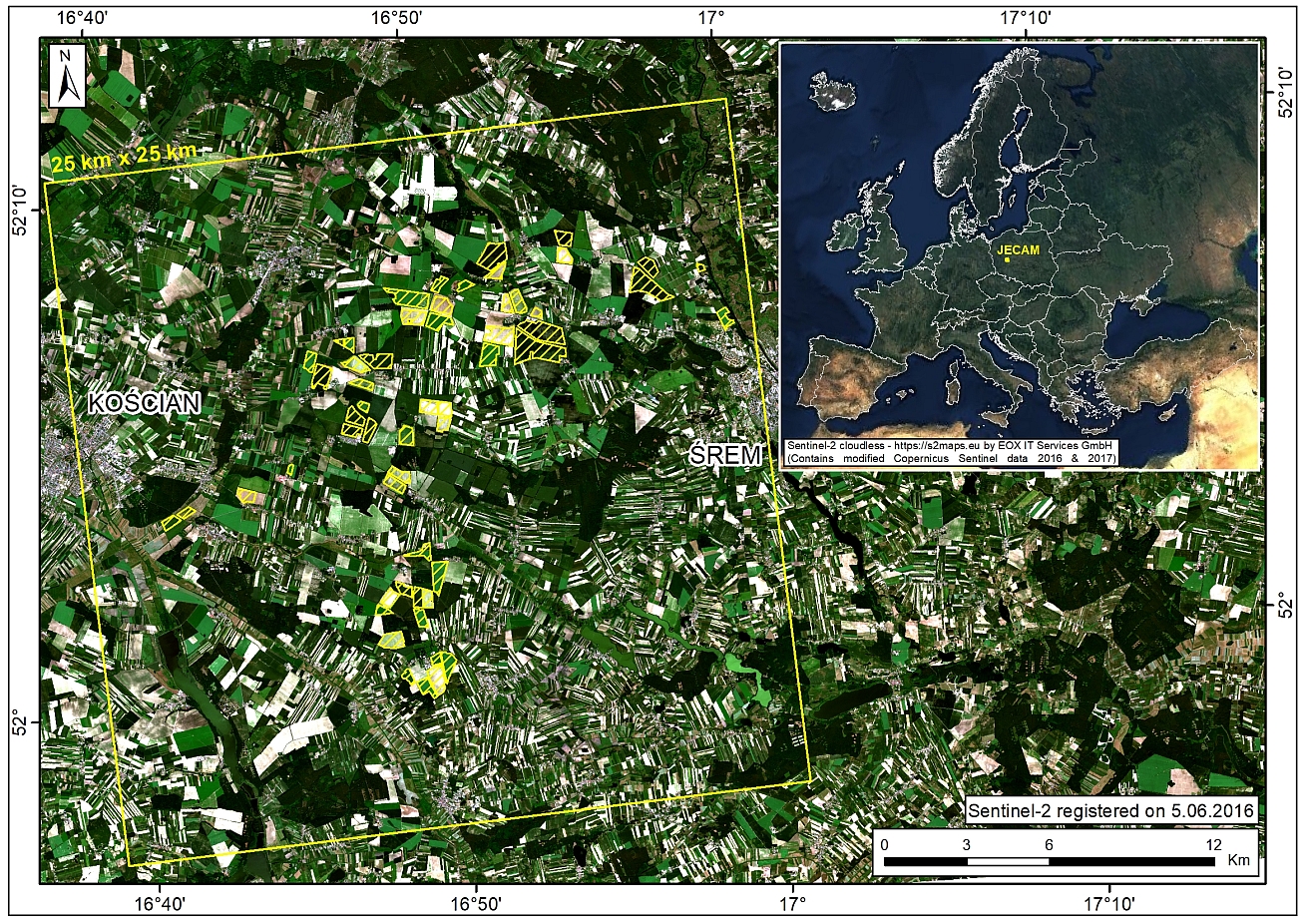 Location of JECAM Poland Study Site in Poland
Study site is located in Greater Poland Voivodeship (NUTS 2 PL41), approx. 50 km to Poznan. The site is 25 km x 25 km (highlighted red) with the area of focused study and research at 10 x 10 km (highlighted yellow).
Crop Types: winter/spring wheat, winter/spring triticale, winter/spring barley, winter rape, winter rye, maize, sugar beets, alfalfa, potato, grass/herbaceous meadows
Crop Calendar: The crop calendar is September-July for winter crops, and April-October for spring and summer crops.
Climatic Zone: temperate. Climate at site is moderately humid and cool, with annual rainfall of about 500 mm, which is relatively well distributed over the year. Year average temperature is approximately 8°C.
Soil Texture: The main soil texture is podzolic, brown and grey brown soils.
Landscape Topology : Flat terrain with the elevation range from 60 m to 90 m.
Irrigation infrastructure is not frequent. Only potatoes farmers use irrigation systems.
---
Publications:
Gurdak R., Dąbrowska-Zielińska K., Newete S., Chirima G., Bartold M., Abutaleb K., Malińska A., 2022, Monitoring crop growth at JECAM sites in Poland and South Africa using in-situ and satellite data, Living Planet Symposium, 23 - 27 May 2022, Bonn, Germany. POSTER
Hosseini M., McNairn H., Mitchell S., Robertson L.D., Davidson A., Ahmadian N., Bhattacharya A., Borg E., Conrad C., Dabrowska-Zielinska K., de Abelleyra D., Gurdak R., Kumar V., Kussul N., Mandal D., Rao Y.S., Saliendra N., Shelestov A., Spengler D., Verón S.R., Homayouni S., Becker-Reshef I., 2021, A Comparison between Support Vector Machine and Water Cloud Model for Estimating Crop Leaf Area Index, Remote Sensing, 2021, Vol. 13(7), 1348. doi:10.3390/rs13071348 PAPER
Gurdak R., Bartold M., 2020, Remote sensing techniques to assess chlorophyll fluorescence in support of crop monitoring in Poland, Miscellanea Geographica, Vol.25, No.3. doi:10.2478/mgrsd-2020-0029 PAPER
Dabrowska-Zielinska K., Bartold M., Gurdak R., Gatkowska M., Kiryla W., Bochenek Z., Malinska A., 2018, Crop Yield Modelling Applying Leaf Area Index Estimated from Sentinel-2 and Proba-V Data at JECAM site in Poland, Proceedings of 2018 IEEE International Geoscience & Remote Sensing Symposium (IGARSS), 22 - 27 July 2018, Valencia, Spain. doi:10.1109/IGARSS.2018.8519120 PAPER - POSTER
Bochenek Z., Dąbrowska-Zielińska K., Gurdak R., Niro F., Bartold M., Grzybowski P., 2017, Validation of the LAI biophysical product derived from Sentinel-2 and Proba-V images for winter wheat in western Poland, Geoinformation Issues, Vol. 9, No. 1(9), pp. 15-26. PAPER